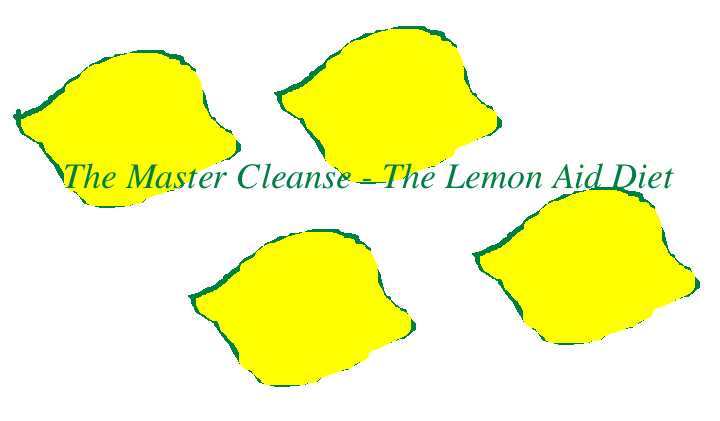 Master Cleanse (Lemon-aid Diet) Recipe
6-12 glasses per day: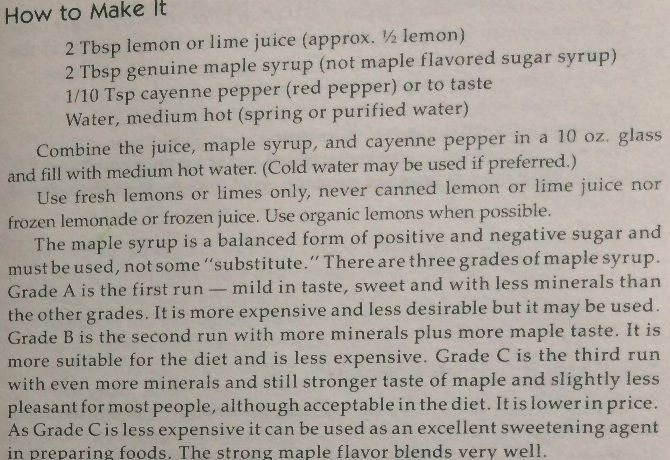 by Stanley Burroughs
Sites With Their Own Spin
Everybody has to add their 2 cents. I am going to follow Stanley Burroughs' plan to the letter. The original book.
I have been thinking about this for a while, and decided to start today. I have had this book for many years but was always too afraid to use it.
My friend Todd is going to start it with me, after Christmas - till New Years. I will hopefully continue on till the 3rd, at least, which will be 10 days. It's good to do it with a buddy.
You can jump on now if you want...
I have been drinking Ginger Lemon Water for about 3 weeks and have dropped 12 lbs while eating my regular diet, of organic vegetables and meat. I have wanted to be a vegetarian/vegan for a long time now but have had a lot of trouble with the transition - being sick, feverish, etc. They say it's because I have type O negative blood, but I think that might be BS and I think I have a lot of parasites in my gut that I am hosting. I am going to go for it anyway - and now that I don't have to work, I can just be sick and be fine with it.
The concoction:
So, I made the juice of 4 organic lemons (seems like that equals 12 Tblsp's) using a lemon/lime press I got at the Mexican grocery a while back;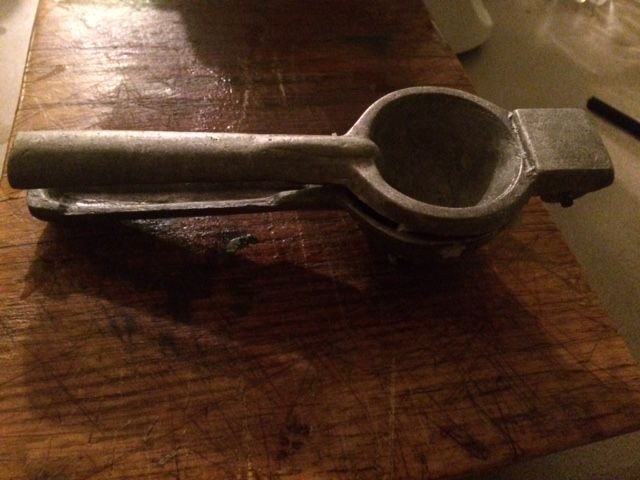 2/3 cup of Grade A (formerly Grade B) organic maple syrup (which was $41 for 64 oz, by the way), and just a hair over 1/2 tsp of organic cayenne pepper. The Bill was high - but I am not going to be eating food for 10 or more days so it will turn out to be reasonable - the lemons were $2.49 a lb and I will have to use 4 per day so that will be the most expensive daily add-on - $3.32 per day.
I boiled 60 oz reverse osmosis water in a pot and poured it in the pot with the concoction. Then drank it all day. It is absolutely DELICIOUS. I have heard that the cayenne will get hotter and hotter through the day, once you put it in. I did not notice that but it was a bit hot to start with. Next batch I will use a level 1/2 tsp.
Job Prob
Today, I got fired from my job, it seems. My car broke down on Thursday, during the snow-day and my job told me that I need to take a cab, at my expense, to my client's house this Tuesday and I said "No!" - I am assuming they will fire me, because they put the guilt trip on me, saying "he's in hospice and we don't have anyone else because it's Christmas!" - Well then, I guess you will have to pay my cab fare. We must put the oxygen mask over our nose and mouth first, before we can help others! Remember that! People doing these unreasonable requests to keep a slave-owner is what makes these douche-bags act this way. We have to train them!
My point-of-view is that they should be punished for Medicaid fraud for sending us out to do a job we are not trained to do, not paying us a living wage to maintain our vehicles, and then the family and the employee get screwed if anything goes wrong! They are all about money! I know that Bert will get the care he needs - God will take care of that -
So now I have some free time to cleanse and get the car taken care of - probably with Bitcoin, I hope. And besides that, Bert's son, Bert Jr., started flirting & propositioning me last week (he's married) to Tina. Here's a link to my post about them. Just horrifying! Natural Law will take care of these assholes - all of them! And it will take care of me too! As it has been!
Last night I did a DJ gig for a birthday part and I ate a meal of very rich foods that was DE-LI-CIOUS !!! but it made me so ill that I decided to do the cleanse today - I was up all night pooping my brains out after this meal -and I recognize that I am a host:
Helminths, Cestodes, & Protozoa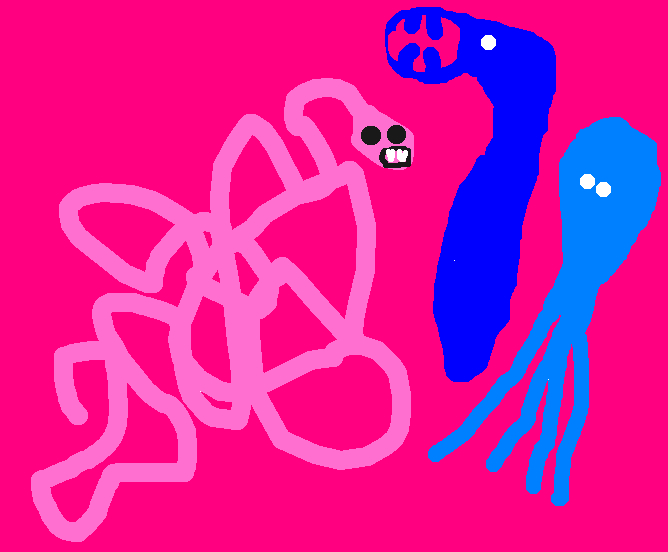 the parasites that live in my gut were screaming for me to eat that food - and then they just raised HECK in my colon...so no better time to do the cleanse.
I feel so horrible today... I will say... I am going to use the morning the salt-water flush instead of the laxative tea at night, though, because my gut does not like laxatives.
Poop
It is suggested that you drink 2 tsps noniodized salt in a quart of clean water first thing in the morning - on an empty stomach, since you are not eating fiber, so you can poop or take laxative tea in the morning and night.
My gut is MESSED UP! I have IBS sometimes, and I always used to have that as a child. But now, maybe, I can really give the vegan thing a go - once and for all! And kill the bad parasites in my gut, by starving them to death so they won't crave dead animal flesh.
We'll see if I make it. I have done a 10-day juice fast before, so it is not such a shock to my psychology to "not eat".
To Break Fast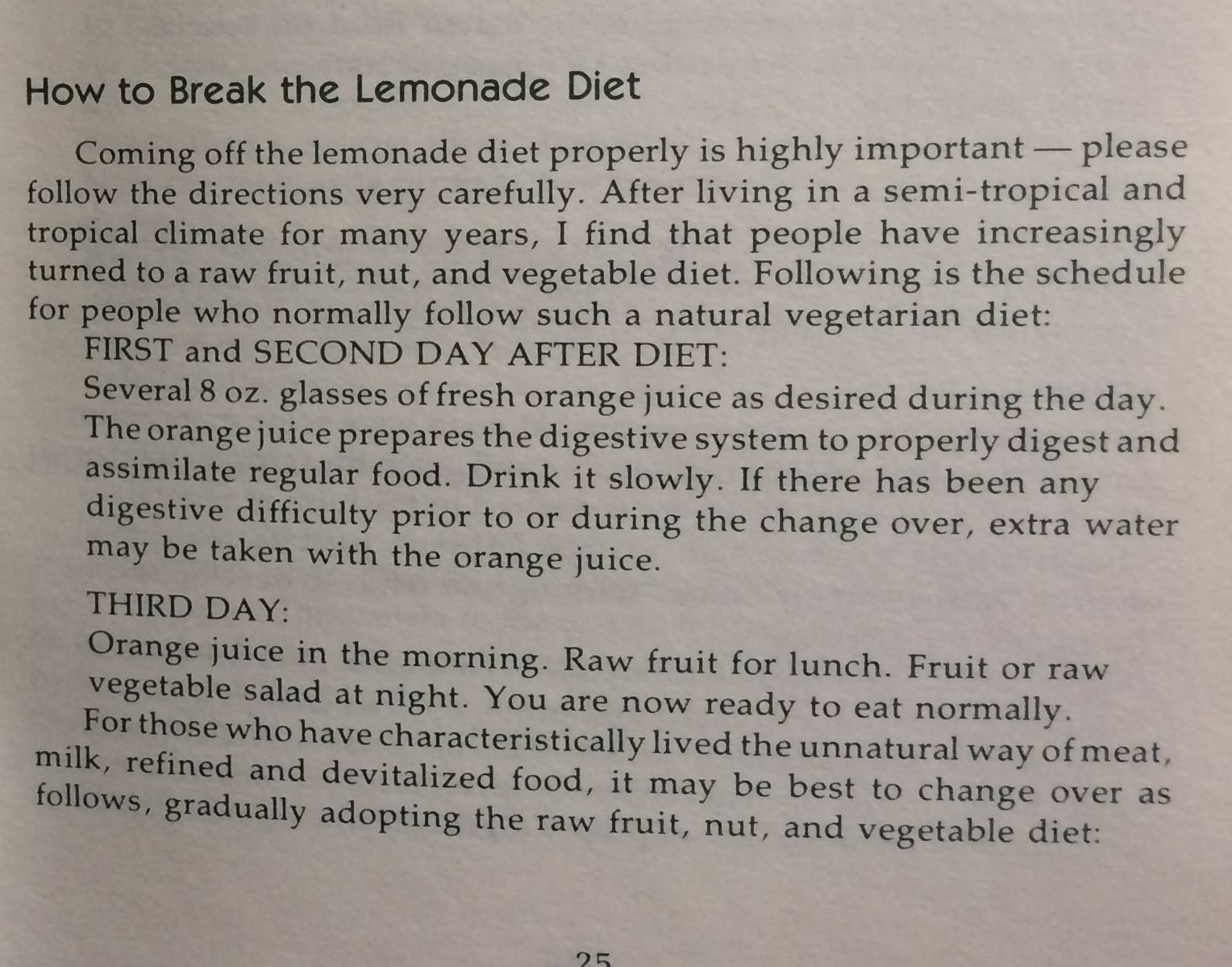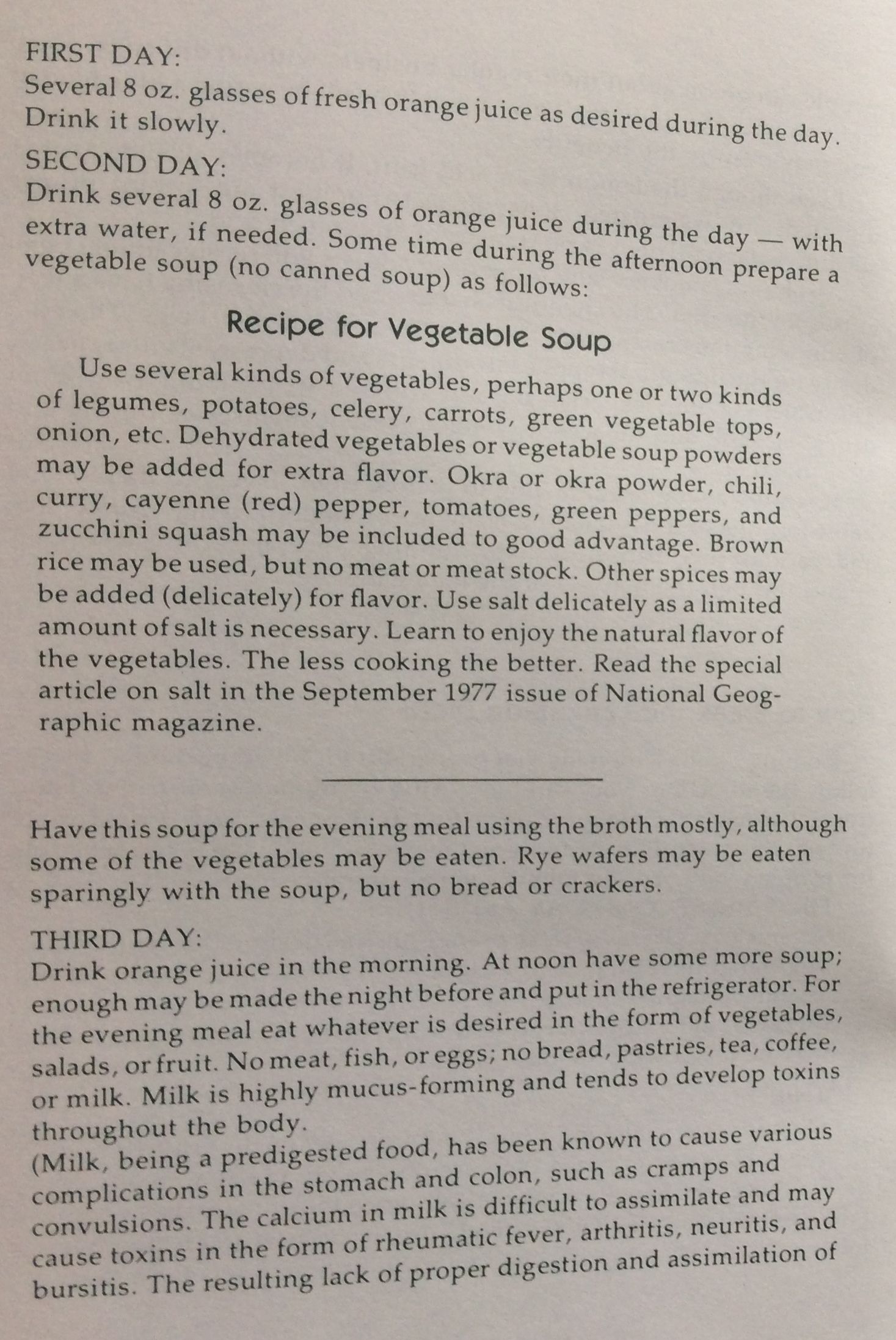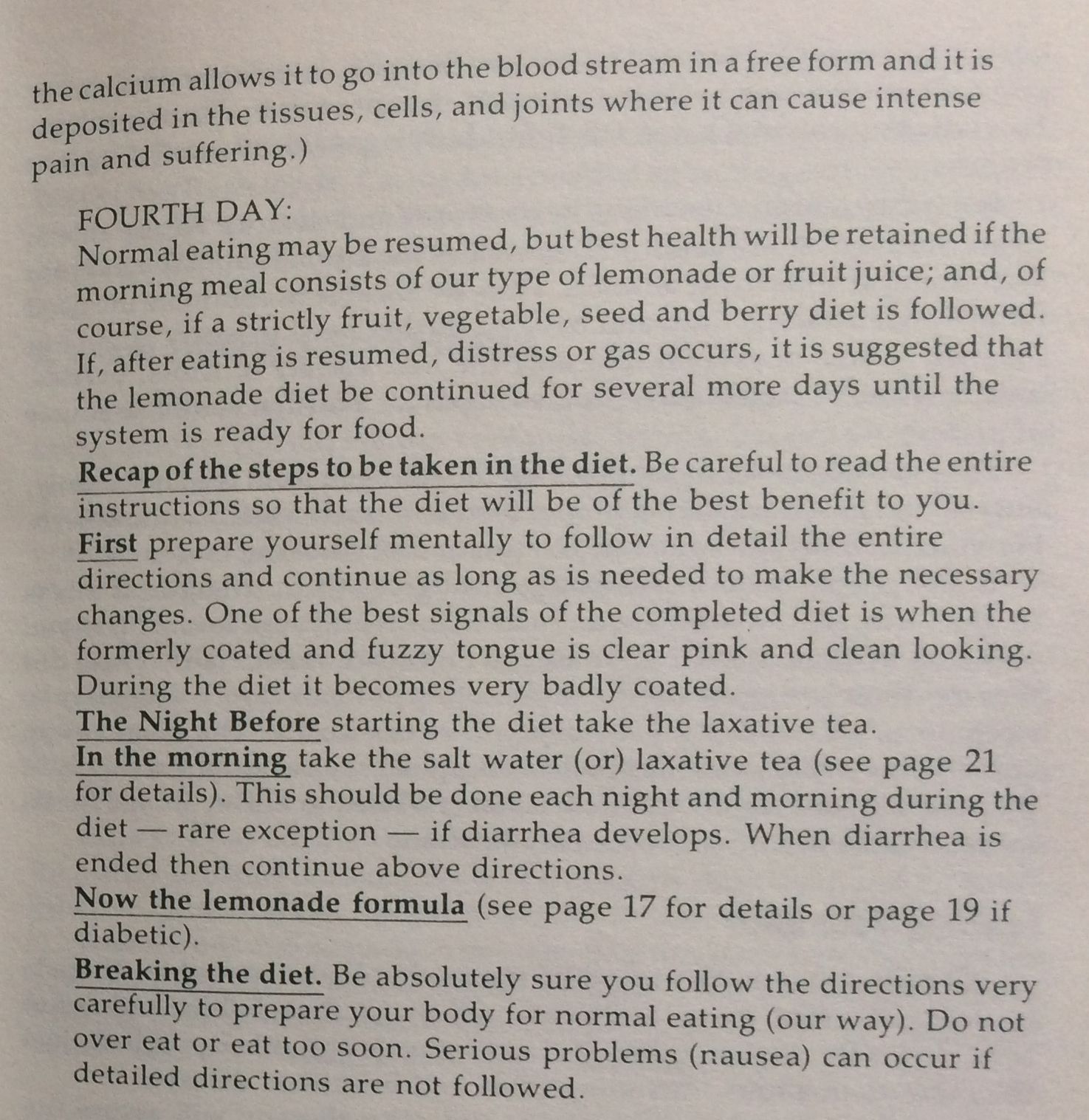 Day 1 Assessment
I was hungry for a little while there, but right now I feel pretty good and it's about time for bed soon. I am hoping this will get rid of the insomnia, the hanging moles, the leg cramps, the scalp exzcema, the mood swings, and the cravings, plus I have a rash on my skin that looks like my pores are bump, and I want to get off coffee!!! I have been in adrenal exhaustion for years and so today, I did drink about a quarter of a cup of my strong coffee that I drink, but that was all I could drink - which I think is GREAT!!!!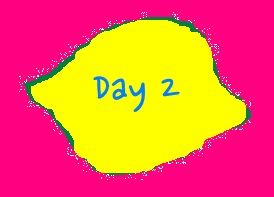 Day 2
December 25. Well, AMAZINGLY, I went to sleep last night without the use of Melatonin, which I have been using every night for YEARS. I just went to bed, after watching something on the computer, and went right to sleep. This is amazing. I have chronic insomnia and I thought it was due to the blue light in the computer. I guess not.
I woke up this morning at 545am. I am drinking 32 oz of salt water to flush right now. I am using Hymalayan Pnk salt and I am not drinking it fast. People say that you go to the bathroom immediately after drinking the salt water - I am not - I have to read up on that, why? I looked in the book and it says to take more water or salt if I don't poop - but that it can't hurt me either way.
I did take a small amount of Senna-Peppermint tea last night. Both the salt water flush and the senna are laxative since I am not eating fiber to eliminate. I have the caffeine headache, from not drinking coffee yesterday - I am going to ignore it for the moment but if it gets too bad, I will have a little coffee. I am not one for physical discomfort.
@zoomtruth wrote and told me that the parasites die at 30 days. I will see what I can do in that regard. I did not really "plan" this very well. But maybe that's ok.
After drinking my first cup this morning, I started to have loose stool. I had a few mouthfuls of coffee to stave off the caffeine headache.
11am and I am not hungry nor am I having caffeine headache issues.

1pm and I am now hungry and I am going to have to make a whole new batch of the lemonaid to get me through...but I went to Slave-away and their prices on Organic Lemons and other ingredients is less than the health food store, so in a pinch, I can walk across the street.
Link to the book by Stanley Burroughs from 1976. There are a gazillion sites online about this but I prefer to give credit where credit is due, to the originator of this diet.
Day 1: https://steemit.com/health/@in2itiveart/master-cleanse-day-1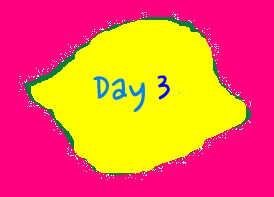 Day 3...
Yesterday I got some tips on the cleanse that I am going to share, from this site.
Leave your lemons on the counter, not in the fridge
Do not make a big batch and include all ingredients. (This bums me out) - but again it's to prevent the enzymes from dying. Basically you can mix your lemon juice and your Maple Syrup together in a dark, glass, jar, which you keep in a dark, cool place, and they maples syrup sugar will preserve the enzymes). He says not to add the cayenne because it will steep and get too hot. (I don't mind that), but not to add the water till drinking time, because that will kill the enzymes. He suggests only mixing 2 lemons per storage - I don't think I can do that - because I have to go to work and get very hungry.
Also he suggests drinking a glass of water in between each lemonade drink so that you get fuller and don't have to drink as much lemonade - I was starving yesterday, whereas not so much the first day. Some people have said they were not as hungry on after the 3rd day. That would be nice.
The above-mentioned site also talks about how to kill parasites while doing the Master Cleanse, which as you know is a big thing I hope to accomplish. I have had my pets living in my intestine my whole life I think- time for them to GO!
I had insomnia till around 12 last night. I also had heart burn/acid reflux, for which I massaged my points. I don't do drugs. I did not take Melatonin. I don't think it is helping anyway - I have the same insomnia with or without it, but I do worry about things when I lay down, so not sure what I will do about that.
amI got up at 5 because I had to take the car to the mechanic, I did the salt water flush, but had no poop for an hour - I did an enema (against advice) cuz I had to drive to the mechanic and did not want to be caught needing to poop, and then it started at 630am about when I had to leave.
I am sure this is a big part of my problem. I am backed up in my colon. That's where the giant tapeworm lives or whatever it is that cccrraaavveees bloody red meat. OUT!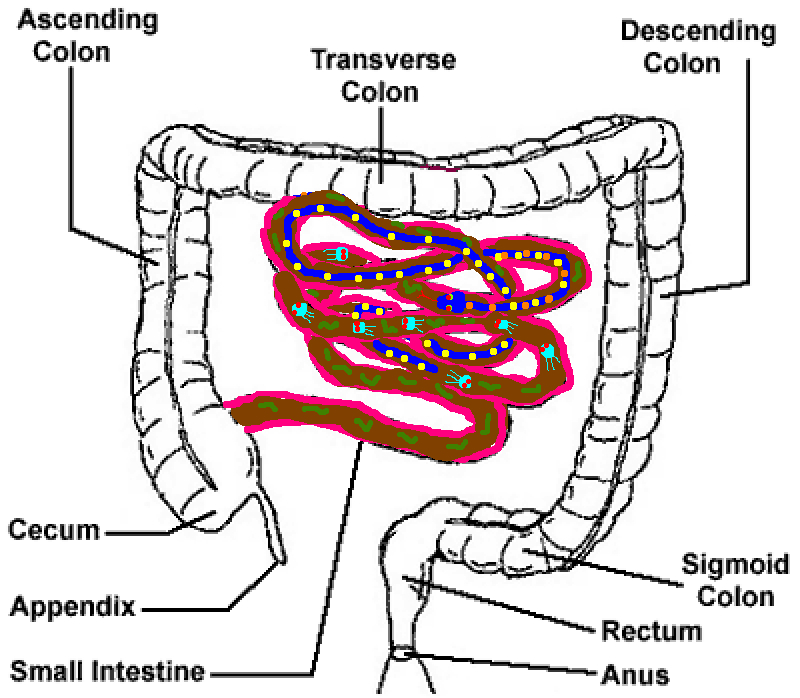 Now I have more heart burn. I think that means I need more water. It probably also is because I drank a double batch of the Lemonade yesterday because I was so hungry. I am not as hungry today. My tongue is coated white. I now wonder if this was the best time to do this because I had to take the car in and now I have to go to Safeway to buy expensive water if I can't get to the health food store to get the 25 cent refills. I think I am drinking about a gallon of water a day on this diet.
Western Med (Dead)
I don't think any time is a "good" time to do a cleanse. If I had waited for a "good time" I would never do it. I did it now because I had been drinking the ginger lemon water and eating a mild diet, and then went out and ate that super rich food and got super sick -and just had to do it ...but honestly - looking at Bert and where he is at, 20 years ahead of me - I don't want to be like that. And @dwinblood also talked about having high blood pressure and making an appointment with the "Doctor". I never want to make an appointment with a western medical doctor. Even my ND who I have thought was great, never suggested this cleanse.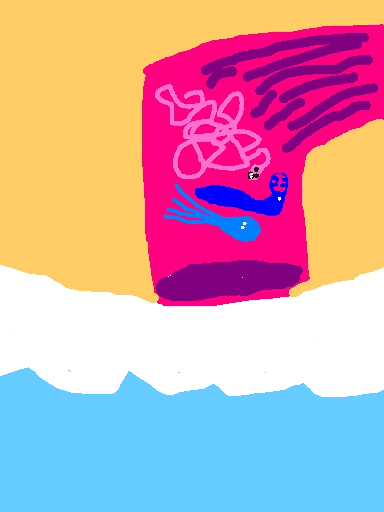 Today is much better - I can handle this I think. I am not overly hungry and now drinking water in between lemonade, it's manageable. My tongue is coated white though, which is good. That means toxins are coming out.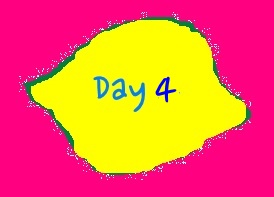 I went to sleep last night without insomnia!!! at 10 pm. I slept through the night and woke up at 545am. I have the caffeine headache so I had 2 swallows of coffee. I drank the salt water flush and am waiting for elimination time. I went to bed H-U-N-G-R-Y but I told myself - a lot of people go to bed hungry, so get over it.
Not that I was being mean to myself, because the night before last I felt a burst of true self-love - just by being willing to DO this for myself I felt like I truly love myself. I'd say that is a good thing in this day and age. But people go to bed hungry. People in Ethiopia eat mud patties. We are all connected. If one suffers, all suffer. I can go to bed hungry.
I drank the salt water flush and then an hour later eliminated. Last night, instead of the laxative tea, I took 3 magnesium citrate capsules, because I know that works for me. I had read on the master cleanse site that you can take cayenne in a capsule, if you don't like the spice, so what's the difference? If you can take cayenne capsules, why can't you also take magnesium citrate capsules. The point is to eliminate. It worked. This is my problem is that I do not eliminate well. I am hoping this cleanse and a gentler diet, with cardio exercise will change change that.
Today I am much better. Much less hungry. My tongue is coated white and I constantly feel thirsty, but other than that, I am fine. Not ravenous like yesterday.
This cleanse is my "fuck you" to Big Pharma, and the Globalist Agenda. From this I am hoping to become less dependent on the system, participate less in "farming" and being farmed, not participate in the slavery of animals and in the morphenogenic field of agony that comes from the animal products industry. Also I hope to have a closer connection with God and a quieter mind.
Day 1
Day 2
Day 3
Day 4,
Day 5
Day 6
Day 7
Day 8
Day 9
Day 10
Day 11
Day 12
Day 13
Day 14
Day 15
Day 16
Day 17
Ease Out Day 1