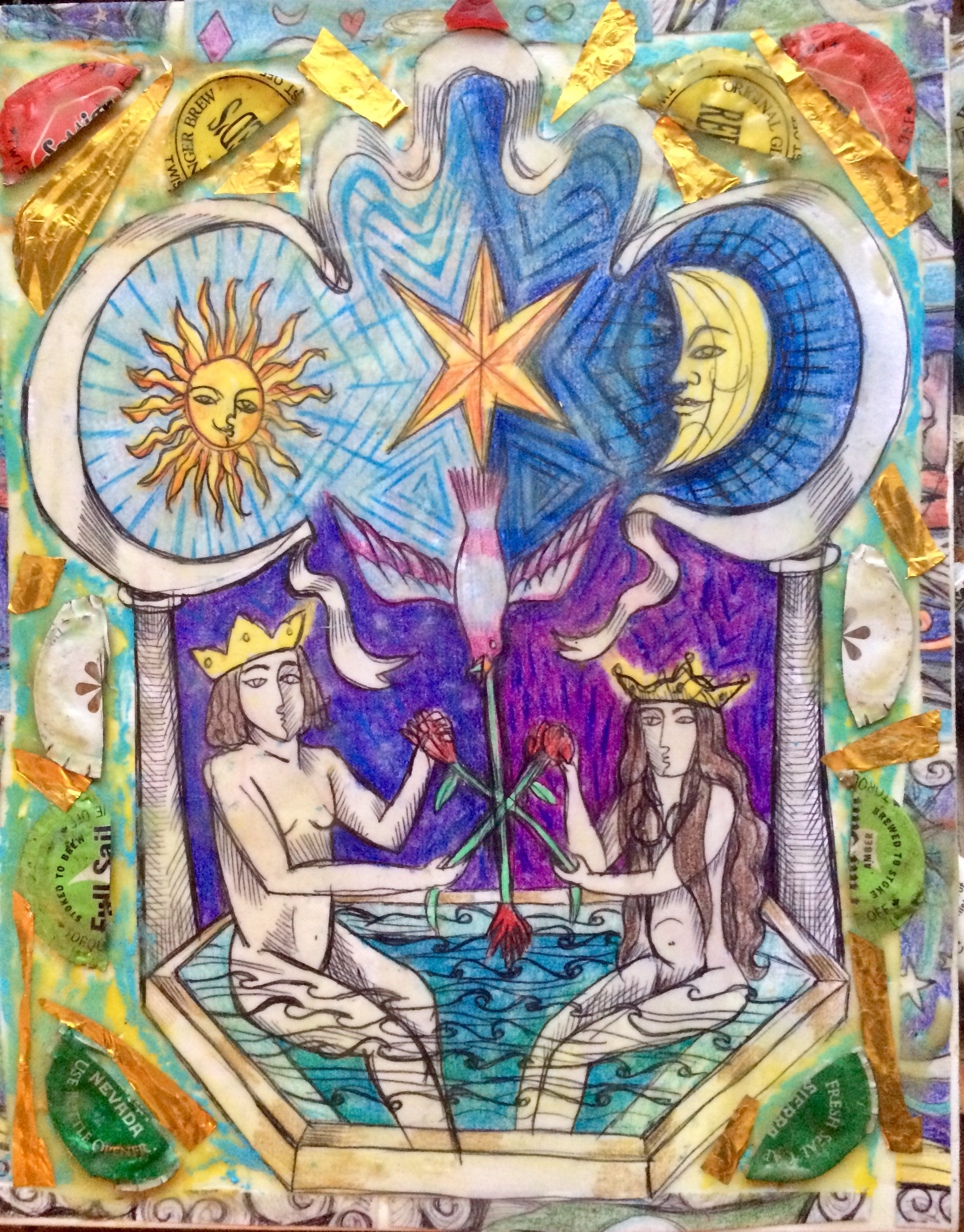 Chapter 1
Looking back she thinks she would have done things differently, when she looks through her conservative lens at what the conservative self sees as her train-wreck life...but she could not have known it would have turned out the way that it did. It would have been called changing horses in mid-stream but the horse she was riding was a Trojan and the stream looks like an ocean. Yet her gut always told her "No. Don't commit. Trust me." and she always had. And therefore she has nothing but herself. (professionally)
I guess when she is in a saner state, she knows that *having herself* is in fact GOOD. When she is not looking through the microscope of *fear of financial insecurity and judgement*, she knows that having her soul intact is better than any amount of money, but she slips into these bouts now and then because she lives in the city.
Well, she is an artist (professionally). But she is an unsuccessful in the eyes-of-the-world artist. Unsuccessful in the making-money-department. You never hear about them, because they are unsuccessful. I have to wonder how they feel. Do they feel as she does? She is constantly going through bouts of self-doubt, which she talks and prays herself out of. She is constantly sending out resumes and cover-letters to get a better side-job, which go unanswered. She always has to decide what job she can take based on whether it's full-time or not, how much they demand, because she has to feed her Artist Monster that lives inside her.
No one understands this. No one who doesn't have an Artist Monster inside them has the slightest idea what she has to do to balance her time. People, including her boyfriend, think she is a slacker. And thank God she has him, finally, I might add. Before he was there, she really felt like a loser. She went 12 years without a real boyfriend. I think actually she really never had a Real boyfriend until him. But that will be in another chapter. Just this past weekend, he reveiled that he thinks she is a slacker for not working more. It really tipped her over the edge.
She gave him a break because he is a real worker-guy. He is in the trades and has been for as long as she has been a Master of Fine Arts. It's just that what he is a master at is in high demand, and what she is a master at is disregarded. That's the difference. He also has a side gig that he does that is very creative, but again, he makes things people want, as well. It is not quite the same. The calling for him is coming from outside and the calling for her is coming from her insides.
Were most of the other unsuccessful artists smart enough to find an alternative profession? Hairdresser, Massage Therapist, Mediator, Tattoo Artist, Graphic Designer, Illustrator, Art Therapist all passed through her radar, but her "gut" said "No."
Actually, it was her dad who said *No* to hairdresser. She was working in a salon in high school and she really wanted to learn to be a hairdresser. Her dad said it was beneath her social position as a member of their family, to be a hairdresser. That's too bad, Dad, because if she was a hairdresser now, she would be actually able to make a living on the side, today. Dad was a drunk in a drunk profession; journalism. He worked for the Big City Paper and she would usually find him at the bar next door when it was time for her mom to drop her off for his weekend visits.
I don't know why they listened to "Dad" about the hairdressing, but maybe he was the only one with money to pay for it, or maybe they had to get parental approval since she was under 18 and he wouldn't sign. I don't know, but it is regrettable. Pathetic.
Her mother, a high-school English teacher in the 'hood, somehow scraped the money together to send her to the most prestigious private elementary school in their part of the state. She was being bullied in the public schools because their housekeeper did her hair up like the little black girls. The little black girls at the public school took offense and teased her mercilously and the teachers made a spectacle out of her consistent answer to "What Do You Want to Be When You Grow Up" - A Ballerina.
Mom thought private school would be better. Nope. She was a messed up little girl with a drunken father. She was tore up. She was what Melody Beattie labeled The Lost Child. She learned nothing at that school really. She made no lasting friendships and she was bullied just the same as she was in public school. She used art as a distraction and got terrible grades. The flunked out in 9th grade and was sent to Catholic School.
When she was with her Dad, she used Art to distract from his drinking. She would spend hours making up fantasies and drawing in between the acts of humiliation and violence of her Dad.
Both Mom and Dad told her that she could do anything because of her family background, because they all, on Dad's side, went to Yale; because of her skill, because of her genes; because of her opportunities; because of something …
They both had done what they wanted. Her Mom had grown up in the Bronx, NY and had loved English and had gotten her Masters in English at Columbia University and had become an English Teacher, which she loved. Her Dad was a journalist, even though he was a drunk, and he got his articles out at the last minute, but he had his own bi-line and his own column that he wrote every week and his own following. He was a war-photographer as well. He had his pictures printed in the newspapers next to his articles.
Her parents had met each other at the Office of War Information in New York, during WWII – Mom was writing propaganda that she totally believed and so was Dad. Dad had a wife and 3 children at home, 3000 miles away, but he decided Mom was better, so he did what he wanted and divorced family #1 and married Mom. Mom decided she wanted Dad even though she was committing adultery and went ahead and went along with the divorce to be married to Dad. These people thought that their daughter could in fact, go out there and get what she wanted because they had...
She couldn't though. She seemed to have a higher authority than what she wanted, ruling her. It was inside her. Her gut. It told her what to do and what not to do and it never allowed her to do anything beneath what it wanted for her – to be True to Herself at any cost. *Scrupulosity*.
Now she was starting to wonder. Was that her gut? Or some kind of demonic possessive spirit that enjoyed watching her suffer?
It's pathetic in the eyes of the world – she is 56 years old and has barely any skills that she can sell in the marketplace...so that she finds herself either working in supermarkets or at big box stores or as a caregiver making minimum wage and at the whim of her employer. She gets shit jobs because she has to give her Art Monster enough freedom for her to feel balanced. If she squeezes out her Art Monster, not only will It eat her alive, but, she will lose her connection to her Intuition which she uses to survive. As the world becomes much more competitive, she gets poorer and poorer. Currently she lives in subsidized housing Section 8.
The caregiver business is highway robbery. There is no loyalty. It does not matter how hard she works – they still cut her hours without warning and without a reason and she has no recourse.
Raised to be "a famous artist", she held out, but she did not "Know Herself" well enough to know that she is not cut out to be an entrepreneur without a business partner or a husband. She is much too emotionally driven and she changes her mind all the time. It's in her nature. She can't do that as a business owner. Business owners need to show up when they say they are going to even if they don't feel like it. Even if they are in psychic pain, they need to show up.
Today, she knows that if she had a choice; she would not be an artist. It's just not worth it any more and it's too painful. The subject matter that she feels compelled to explore is agonizing and dark. Now that she knows what is going on in the world, why be an artist? She is still a slave to the system. She still has to make money. Even though she knows money is nothing more than green pieces of paper with the all-seeing-eye talisman printed on them, that are culturally agreed upon to be a source of trade by the el-ites who printed them – she sees no point in exploring those subjects...because no one sees what she does because she is unsuccessful.
There is no subject matter that makes being an artist worthwhile today. The world is run by Satanic pedophiles hell-bent on destroying the natural beauty on earth and most of the population save 500,000, through Agenda 21 antics like eugenics and big pharma and general disunity – she just doesn't know what to draw anymore.
Although being an artist made her more sensitive to Nature and others, and it also made her able to see how amazing the Natural world is, and it also meant that she could explore many things most people don't get the opportunity to explore, like the occult, sigils and tarot, and psychic drawings, and learn things and be a jack-of-all-trades, it is still extremely off-the-grid and frustrating to not be able to get up every day and go do something authentic that is of service to others, and sometimes to have to live on $88 a week.
Copyright 2019 Joanna G Whitney.
# Previous Posts
https://steemit.com/art/@in2itiveart/i-am-a-misfit-part-6 https://steemit.com/art/@in2itiveart/i-am-a-misfit-part-5 https://steemit.com/art/@in2itiveart/i-am-a-misfit-part-4-charles https://steemit.com/art/@in2itiveart/i-am-a-total-misfit-part-3 https://steemit.com/art/@in2itiveart/i-am-a-total-misfit-part-2 https://steemit.com/art/@in2itiveart/i-am-a-total-misfit-part-1